'The Bold and the Beautiful' delivers powerful 'Don't Text and Drive' message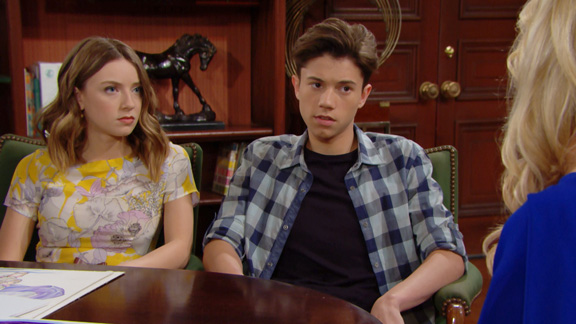 (L-R): Grossbeck, Turpel and Lang
Photo: CBS
CBS's Emmy-winning Daytime drama "The Bold and the Beautiful" took a stand today to address the growing problem of distracted driving—which includes but not limited to texting while driving and taking your eyes off of the road for even a second -- something millions of people are guilty of doing each day.
On Thursday, July 27 episode of "The Bold and the Beautiful," Brooke (Katherine Kelly Lang) shares a scene with her teenage son R.J. (Anthony Turpel), and his girlfriend Coco (Courtney Grosbeck) to reiterate why texting and driving should never go together. In an earlier episode, R.J. took Coco for a joyride in his father Ridge's (Thorsten Kaye) car. When Coco took the wheel and simultaneously sent a text message, the teen couple got into a near fatal car accident.
The show has tackled social issues story lines head-on since its 1987 debut including homelessness and poverty, transgender awareness, Alzheimer's disease and domestic abuse to name a few. This current issue of texting while driving is topical and something happening daily.
"'The Bold and the Beautiful' has been weaving socially conscious issues into the fabric of our storyline since our debut in 1987," said Head Writer and Executive Producer Bradley Bell. "Texting while driving is a serious and problematic trend that is on the rise, not just with millennials, but also with adults. We thought that the time was right to share this impactful story and the possible consequences distracted driving may have with our viewers."
In the episode, Brooke tells RJ and Coco that "It only takes three seconds to lose control. I don't know what I'd ever do without you if something happened to you, so just please be careful...". She reminds them how lucky they are to be alive. The message made an impact and the show concluded the episode with a PSA from Lang about the dangers of distracted driving."